Hung's International Inc. U.S.A
www.lubriplate.com.cn
E-mail:
(Technical Service)
To fully take advantage of our speciality & practical experience of machine lubrication,to save your money,time & energy !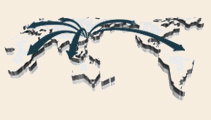 ---
SYNFLUSH FG 100% H-1 Flush Fluid
---
---
Commodity name:

SYNFLUSH FG 100% H-1 Flush Fluid

Commodity ID:

L0961

LUBRIPLATE Synflush FG

*NSF H-1 Registered

"Halal & OU Kosher Pareve - Pending"

LUBRIPLATE Synflush FG is a unique, modern technology product designed to clean systems where a switch from

an H-2 lubricant to an NSF H-1 Registered lubricant or a switch from a Mineral Oil or Polyalphaolefin based lubricant

to an NSF H-1 Registered Polyalkylene Glycol (PAG) based lubricant is required.

LUBRIPLATE Synflush FG is compatible with Synthetic Polyalphaolefin, Polyolesters, Di-esters, Polyalkylene Glycols (PAG's) as well as mineral based fluids; therefore, it may be used when switching from many types of fluids without leaving behind incompatible residue. Prior to using LUBRIPLATE Synflush FG, it is highly recommended, although not necessary, that a 4-ounce sample from the unit in question be submitted so that baseline testing may be performed. These test results will help to determine the effectiveness of the flushing procedures with subsequent oil samples.

Typical Physical Properties

Kinematic Viscosity

@ 40?C; cSt 38 - 50

Pour Point - 45?C

Flash Point; COC 218?C/425?F

Specific Gravity @ 20?C 0.95

Density (Lbs./Gallons) 7.935

Color L0.5

Packaging Part Number

55-Gallon Drum L0961-062

5-Gallon Pail L0961-060

Carton 12/1 Plastic Quarts L0961-054

*NSF H-1 Registration No. - 143394

(Meets USDA 1998 Guidelines)

*Authorized by NSF (National Sanitation Foundation) for use in food processing facilities

as a lubricant or anti-rust agent on equipment in which there may be incidental contact involving

the lubricated part and the edible product.

Manufactured with ingredients that comply with FDA 21 CFR 178.3570

"The LUBRIPLATE Synflush FG contains no components derived from TSE/BSE relevant

animal species; therefore, it is compliant with the requirements of the TSE Note for Guidance

EMEA/410/01 Rev. 2, October 2003".