Hung's International Inc. U.S.A
www.lubriplate.com.cn
E-mail:
(Technical Service)
To fully take advantage of our speciality & practical experience of machine lubrication,to save your money,time & energy !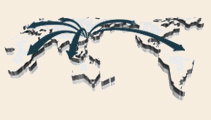 Lubriplate was established in 1870. It's headquarter locates in Newark New Jersey USA.
---
---
Lubriplate was established in 1870. It's headquarter locates in Newark New Jersey USA. Lubriplate has a long history with more than 140 years. For more than one hundred and forty years, Lubriplate produces high quality lubricants & specialties with the famous brands Fiske and Lubriplate for industry. Although Lubriplate is not the biggest lubricants manufacturer in the world, it is the special lubricants manufacturer with the longest history and outstanding quality. Lubriplate products are including two parts. The first part, it produces lubricants for industry, construction, food processing, automotive, marine and etc. The second part it blends metal processing and special requirement lubricants. Lubriplate persistently pursues that all the products which are produced by its' manufactures under strictly quality management. Lubriplate passed ISO 9001:2008 and ISO 21469:2006 quality systems. It is always regards innovation and research & development as an important enterprise culture. It researched and produced white grease which is superior anti-corrosion in 1930s. It gave rise to a revolutionary change in grease production and application fields, and evoked great sensation of industry. Therefore, many years later, Lubriplate high quality products are recommended by all the senior engineers of American Society of Mechanical Engineer (ASME) as the first high quality lubricants. It is also the first choice and the first that come to mind brand by equipment maintenance engineers and procurement managers of American food and beverage industry. In addition, many famous American oil companies sell themselves product, they also sell Lubriplate products as specialized lubricants at the same time.
Lubriplate is the first one who researched and developed food grade products in the world. Lubriplate production line and marketing share is also the most comprehensive available among global food grade lubricants companies. It is the biggest supplier of food grade lubricants in the world. So Lubriplate is the apodeictic leader in food grade lubricants industry.
---