Hung's International Inc. U.S.A
www.lubriplate.com.cn
E-mail:
(Technical Service)
To fully take advantage of our speciality & practical experience of machine lubrication,to save your money,time & energy !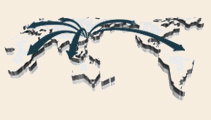 Leadership speech
---
To: Our Lubriplate Distributors and Consumers
  Ladies and Gentlemen:
  Thank you for your interest in Lubriplate Lubricants. For 142 years, our company had manufactured and sold only the highest quality lubricants to all types of industry. The advent of ISO 9000has given us the opportunity to prove that "we practice what we preach." As an ISO 9001regsitrad company, all of our employees have totally committed themselves to developing, manufacturing and selling qulity products that meet and exceed your expectation. Our commitment to maintaining ISO 9001certification provide us with a bright and strong future. We appreciate your consideration of Lubriplate Lubricants. We realize that we must constantly work to earn and amintain your trust.