Hung's International Inc. U.S.A
www.lubriplate.com.cn
E-mail:
(Technical Service)
To fully take advantage of our speciality & practical experience of machine lubrication,to save your money,time & energy !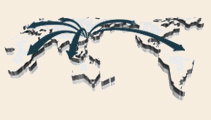 Quality Assurance
---
1.ISO 9001:2015 Quality Management System Certificate
2.ISO 21469:2006 Quality Management System Certificate
3.NSF H-1, 3H, H-2, HT-1 Registration
4.Halal and Kosher Certifcates
5.Lubriplate Mineral-base food grade products are produced with the highest standard and purest USP white oil in the world at present time.
6.All the products which are produced by its'manufactures under strictly quality management.
7.Lubriplate high quality products are recommended by all the senior engineers of American Society of Mechanical Engineer (ASME) as the first high quality lubricants.
8.Lubriplate food greade products are 100% NSF H-1 lubricants
9.Lubriplate gets "Reader's choice award gold winner" of world famous magazine <<Food Processing>> with 8 consecutive years .
10.Lubriplate synthetic products are 100% full synthetic lubricants.
11.Many famous American major oil companies ( the world's top 500 enterprises) sell themselves products, they also sell Lubriplate products as specialized lubricants at the same time.
12.Lubriplate brand gains respect and recognition worldwide . Lubriplate products are recommended by OEMs.