Hung's International Inc. U.S.A
www.lubriplate.com.cn
E-mail:
(Technical Service)
To fully take advantage of our speciality & practical experience of machine lubrication,to save your money,time & energy !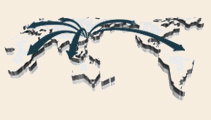 Attract investment
---
We are seeking qualified distributors in greater Chian and South East Asia. If someone wants to be engaged in food grade lubricants and specialities, please contact us. Lubriplate is very famous lubricant brand in food grade lubricant industry and specialities. Lubriplate brand gets worldwide respect and recognition. Lubroiplate is leader of global food grade lubricant industry. We warmly wecome qualified candidates to join Lubriplate team as one of Lubriplate family members.
For more than 140 years, Lubriplate sells it's products through distriutor's system. Lubriplate regards distributors as their own team.